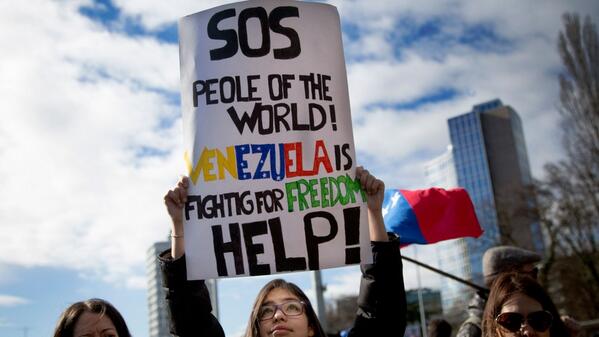 Since my mixed Spanish II/III class decided to write their competition skit
about the situation in Venezuela
, I have been collecting tweet to update them each day from
#SOSVenezuela
. I just take a little five-minute cross-section from the day, sort it into major topics for the day, and I walk them through interpreting the tweets and images. These are the stories I've shown them so far (please forgive how hastily cobbled together they are):
On the one hand it is nice short contextualized authentic reading that even my monolingual principal can catch onto within 5 minutes of walking in. On the other hand my girls are still feel frustrated, and if they're feeling frustration, the frustration is real.
My plan comes in two parts: review and preview--in that order.
First, I review my previous Storify stories and pick out the following information:
relevant vocabulary
representative images
powerful statements/questions
hashtags
Then we will combine and recombine them at stations of their choosing (we may take a few days):
Group vocabulary by topic (either selected from the list or student-made labels): They pick out as many words as they know and stick them to a class poster, adding to each other's groups. Native speakers and Spanish III will have to hit this station last, but it's a good place for the novices to start
Cloze tweets: I'll take the vocabulary out of select tweets; they can fill in the blanks (word bank included)
Video hashtags: I'll get some red, yellow, and blue butcher paper for a backdrop, and each will pick 3 hashtags from the stories to read dramatically on video (perhaps to be edited and posted on Vine or YouTube?)
Hashtag tweeting: choose 3 different hashtags to apply and use the vocabulary provided (and any high-frequency verbs, familiar words needed) to tweet from class accounts relevant updates on at least 3 recent events
Pancartas: combine vocabulary and hashtags to create your own protest signs
Photo matching: pick a hashtag, a statement/question, and 5 vocabulary words to go with each picture (Padlet? Prezi?)
Infograph tweet: chose one of our infographs (that we collected on Diigo) to tweet with one of the hashtags provided, and invent one of your own
Statement illustration: recreate an image image (drawing? with a partner?) that captures the sentiment from the question/statement
Photo gallery walk: students use post-its (or Padlet if I get the lab?) to ask questions related to each of the pictures, answer at least one classmate on each.
Skit slips: slip color-coded vocabulary (red), statements (blue), and hashtags (dark yellow) into the script we've started with initials so we can award a winner in each category
Sum it up: write a paragraph in Spanish explaining the overall problems in Venezuela right now.
Then, the preview. After reviewing previous stories, we'll need to catch up once more. So I'll make a Storify, but this time I'll warm them up first:
Collect a list of familiar/relevant vocabulary (from review list) so students can make bingo cards related to the tweets (and see how much they DO know).
Make a word cloud of the day's tweets.
Make a key word list of new relevant vocabulary, but give it to them in English to have students find the way to say it in Spanish (props to Bethanie for turning me on to THIS authentic resource demystifying process!)
Tuitero/tweet matching: much like the important words and phrases section, I'll have some important topics picked out and the twitter names of people in the day's story so they'll have to figure out who was talking about which topic.
Then at the end, we can put together a brief forecast for Venezuela (Hay mucha protesta/violencia/censura/escasez con chance de encarcelamiento/libertad/justicia/barricadas) based on the day's tweets.
I would also like to have more processing of the tweets. I did sort of start to rope in
Sra. Lenord
's
Questions Workshop
with a heaping helping of
Thomas Soth
's
timed picture improv
activity with limited success before. I'd like to bring that back, and build up to questions and answers, a la Amy's
Interpersonal Blitz
. I think I'd like to build up to a debate about what the biggest problem is, too, as we finish up our script.
So I'm hoping more reinforcement, more preparation, more analysis will lower some of the sturdier affective filters and allow those who get it to apply their understanding in purposeful ways. I want my kiddos to understand the access to the world they have with just some key vocabulary, and I want them to feel like they can not only interpret but also create with the language and actually join that world they're accessing and add their voices for justice.
Otherwise, it's just another skit based on a high-tech textbook.